Posts: 3,609
Blue Thumbs Gaming
Pivvot LOOPER Mode
The latest update to
Pivvot
introduced a new mode called LOOPER:
[quote]
What's New in Version 1.40
LOOPER GAME MODE
• Looper game mode: Do loops. Get points. Don't die.
• Includes a brand new song!
• Available for a purchase of $0.99 (or equivalent)
• I wanted to add a game mode that really changed the way you play the game. I worked hard on this one. Hope you guys like it!
If you've watched any of my Pivvot
Berserk
mode replays, you'd know that I always do a few loops at the start of every run through as a quick warm up and mental preperation and so I was really excited about this new mode.
I'll cut right to the chase about it, as LOOPER mode stands now
I HATE IT!!!
And it really hurts me to say that because I'm a massive fan of the game and of the developer
WT
. I haven't come to this conclusion lightly, I've spent over 5 hours playing the mode exclusively since it became available and have maxed out with a top score of 19 points. If you haven't seen a replay of LOOPER mode in action yet, here is a replay of an earlier 18 points run:
[youtube]3xyKI6Zzr3A[/youtube]
Note: I haven't posted my 19 points run because the Kamcord program used to save and share replays in Pivvot is such a pile of junk that rarely works correctly and once a replay fails to transfer to YouTube there's no way to manually attempt to share it again.
In LOOPER mode:
The track is randomly generated.
I thought this was cool at first but it actually increases the difficulty of the mode immensely and in some cases makes it impossible to continue. I've been on +15 points a couple of times and then been confronted with having to navigate through what I call THE HOTPLATE section twice in a row.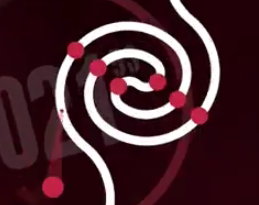 Note: This is a screenshot from Expert Endless.
Navigating through the Hotplate is hard enough in the regular modes but here in LOOPER it's a miracle if you make it through once, but being faced with two in a row almost certainly means game over.
The speed of the cogs is random.
The cogs come at you in different speeds and innumerable times I've been well into a +15 points run only to get completely blindsided by a speeding rogue cog from hell that seems deliberately coded to crash straight into you (I know they aren't but it sure seems that way).
[youtube]N-Q2l7AVCA8[/youtube]
[youtube]JEkA-A6m4l8[/youtube]
The cog paths are random.
Similar to Berserk mode, the cogs come at you randomly, however in LOOPER mode they come at you from all directions. This results in a mode that even if you don't do any loops, is insanely difficult to navigate through.
[youtube]Papoj9R8BBA[/youtube]
I also often find myself crowed into an inescapable position by a bunch of slower cogs, which is incredibly frustrating.
The sensitivity toggle is turned off.
I asked WT about this on
Twitter
and he said it was because:
[quote]I didn't want everyone forced to play at max
I was a bit disappointed with this because if you've ever played BERSERK mode with any real focus you'd no doubt be aware of how crucial slight changes in sensitivity are to your ability to navigate through the mode successful. Aside from speeding rogue cogs from hell and getting crowed into impossible situations by slow cogs, my biggest reason for crashing is due to over correcting my movements. I know I could go a long way towards reducing these types of dumb deaths if I was able to tweak the sensitivity down.
My ¥2 conclusion
IMO all of that random leaves us with a game mode that is 100% luck based and not in anyway skill based. Unlike BERSERK mode, there are no skills that you can improve on in LOOPER mode and after playing this mode for over 5 hours, I'm no better at it or likely to achieve a higher score than the very first time I played it. If you want a half decent score in LOOPER mode as it is now, all you need is dumb luck and stubborn persistence.
I think this mode would benefit greatly from having a standardized track (that could be learned in the same way that the other non-random modes can) and being able to tweak the sensitivity. Those two things alone would vastly improve LOOPER mode IMO. Oh and if WT decided to get rid of the speeding rogue cogs from hell, I'd be OK with that also. I really like the concept of LOOPER mode, but I want to be able to improve my skills to the point where I can consistently play runs that can last minutes and not luck my way through runs lasting seconds.
"Wow man. You're the greatest kangaroo blooded ninja I've ever cyber met."
"a lot of strange people playing this game but you're a special one..."
Lunartic on Facebook Twitter Everyplay YouTube Badland Forum Blue Thumbs Gaming